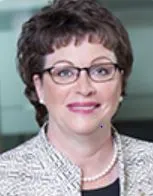 The Investment Industry Association of Canada (IIAC) is pleased to announce that Charyl Galpin, EVP & Managing Director, Head, Private Client Division, BMO Nesbitt Burns Inc., has been appointed Chair of the IIAC's Board of Directors for 2017-18. She is the first woman in the IIAC's history to serve in this capacity.
Steven Donald, President, Assante Wealth Management Ltd., was appointed Vice-Chair for 2017-18.
Ms. Galpin, who joined the IIAC Board in 2015, is already one of the most influential women in corporate Canada. She was named one of Canada's Top 100 Most Powerful Women of 2014 by the Women's Executive Network.
"Charyl Galpin's appointment is a testament to her experience, accomplishments and valued perspective," said Ian Russell, IIAC President and CEO. "Her appointment as our Chair is an indication of the broadening diversity of leadership right across the Canadian investment industry and financial sector."