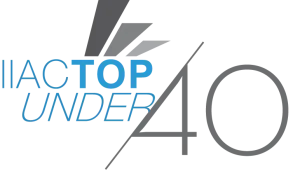 Event: 2018 IIAC Top Under 40 Award Luncheon
Date: Thursday, 25 October 2018
Location: Delta Toronto Hotel – 75 Lower Simcoe Street, 3rd Floor (SoCo Ballroom), Toronto
The IIAC Top Under 40 Award recognizes and celebrates the new generation of highly motivated and talented young professionals whose drive, dedication, personal and professional qualities and accomplishments have brought distinction to the investment/financial industry.
This year's recipient will be announced and celebrated at the IIAC Top Under 40 Award Luncheon on October 25, 2018 in Toronto and will also be recognized later that evening at the Investment Industry Hall of Fame Gala Dinner and Induction Ceremony.
Featuring Keynote Speaker: SHANNON WALKER
Shannon is the founder and president of WhistleBlower Security Inc. Shannon's belief in the power of an ethical workplace soon became a vision for helping companies nurture their ethical and compliance cultures. WBS was born of this vision twelve years ago and since then, has expanded its services globally.
Shannon has a B.A in Communications from Simon Fraser University, an M.A. from Pepperdine University in California, and attended the Queen's Strategic Leadership Course.  Shannon volunteers on numerous community boards and speaks frequently at conferences on ethics and compliance. 
Shannon's primary focus at WBS is managing relationships with our clients. Always on the lookout for new opportunities to partner and provide support to other ethically aligned organizations, Shannon lives by the model of promoting ethical workplaces and strives to ensure this belief also resonates with the people we meet.
To purchase a table or buy tickets, please click here.
Thank you to Our Sponsors
Platinum Sponsor

Proudly Supported By