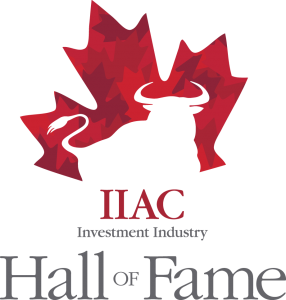 IIAC Investment Industry Hall of Fame Induction Dinner Ceremony
Reception 5:00 p.m.
Sponsored by Broadridge Financial Solutions
Dinner 6:00 p.m.
Sponsored by NBCN Inc.
The Investment Industry Association of Canada (IIAC) recently announced the establishment of the IIAC Investment Industry Hall of Fame to honour excellence, integrity and leadership in Canada's investment industry.
"Formal recognition of excellence in the Canadian investment industry is long overdue," said Ian Russell, IIAC President and CEO. "We are proud to establish the IIAC Investment Industry Hall of Fame to honour an elite group of individuals whose contributions to the investment industry and Canada has become legend. These individuals are synonymous with excellence, innovation and integrity in our industry."
Broadcaster and author Rex Murphy will serve as the Master of Ceremonies for the induction ceremony. Inductees will be further honoured with a ceremonial display at TMX Group, Toronto.
Hall of Fame Induction Dinner Ceremony 
$300.00 per seat
(Prices do not include HST)
To purchase seats please click here
For the 2013 Investment Industry Hall of Fame Induction Ceremony Program, please click here.