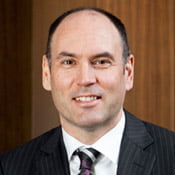 The Investment Industry Association of Canada (IIAC) is pleased to announce the election of John Chambers, CEO of FirstEnergy Capital Corp., as Board Chair of the IIAC.
Sandy Cimoroni, SVP, Shared Services & Chief Operating Officer, TD Wealth, has been elected Vice Chair.
"I am honoured to take on the role of IIAC Board Chair at this watershed moment for Canada's investment industry," said Mr. Chambers. "Our industry continues to face challenges brought on by sweeping regulatory reform, but under our Board's leadership, the IIAC will continue to play a constructive role helping regulators and governments ensure rules are properly designed and cost-effective, and avoid unintended consequences," he added.
"As we have throughout our ten years of existence, the IIAC will continue to engage constructively with securities regulators and governments to fight for cost-effective rules, fight against rules that interfere with business activity and market efficiency, and promote incentives for capital formation and growth," said IIAC President and CEO Ian Russell. "We also maintain our commitment to supporting Member firms with a full array of services to ensure their ongoing success," concluded Russell.
The news release announcing the 2016-17 Board of Directors of the IIAC is available here.